Your product has been added to your shopping cart.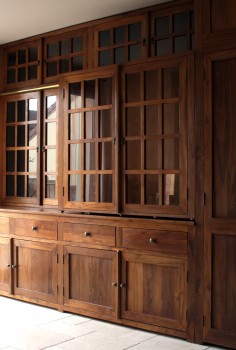 | | |
| --- | --- |
| | |
...and what if you adapted it?
For any of our pieces, we can: change the size, change the tint, change the material, replace the handles, change the position or quantity of any of the elements and respond to any special need you might have.

Here are a few examples:



We designed rotating teak shelves around a tree trunk for a stand at Maison et Objet, Paris.




Detail of the shelves for the Trade show.




1a) The top of one of the four sections of a display unit for a Swiss branch of the hairdresser Sebastien. Total height was 356 cm.




1b) The bottom part of the section of a Sebastien display unit. The cabinet on the bottom is a closet. The full length was 467 cm.




Shelves built around a counter with an adjacent shelving tower for books.

Shelving unit made for our Swiss client L'Art de Thé.