Your product has been added to your shopping cart.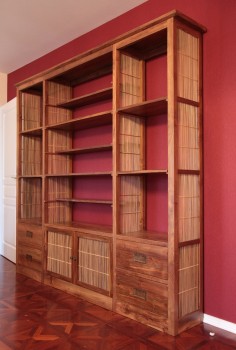 ...and what if you adapted it?
For any of our pieces, we can: change the size, change the tint, change the material, replace the handles, change the position or quantity of any of the elements and respond to any special need you might have.

Here are a few examples:



Large bookshelf with adjustable shelves and cabinets.




Details of the upper part of the cabinet. Note that there is no back. The client wanted their wall to be seen.




Very big bookshelf with adjustable shelves, cabinets and drawers.




The shelves are adjustable within the five columns.




Low and long teak and bamboo bookshelf.




Low shelving unit custom made in Candy Brown to go behind a long chest and in between two couches.




A bad picture of a lovely teak and bamboo bookshelf with a large opening for a TV.

Cocoa Brown bookshelf with compartments, cabinets and drawers.