Your product has been added to your shopping cart.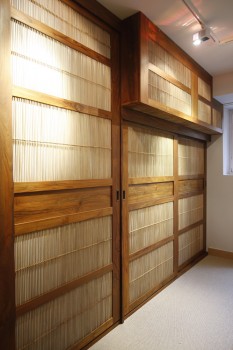 | | |
| --- | --- |
| | |
...and what if you adapted it?
For any of our pieces, we can: change the size, change the tint, change the material, replace the handles, change the position or quantity of any of the elements and respond to any special need you might have.

Here are a few examples:



A pair of two small sliding doors done for a children's room.




A series of different sized teak and bamboo doors backed with plexiglass.




This frame with four pairs and two single doors was made to cover wall to wall shelves.




This hinged teak and bamboo door was seen in Art et Decoration.




A frame with four doors made in Palm wood and bamboo panels. The doors were made to match our Palm wood bed. The console and mirror were made to measure for the client.




The same doors lit from within.

A larger view of the yoga room with the numerous sliding and hinged doors.